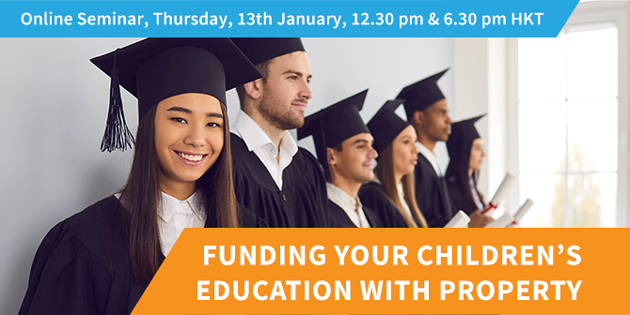 Use investment property to fund your children's education costs
Did you know that investing in property versus other savings/investment products can produce better and steadier returns in the long term? How does it work?
Your education funding plan with property in a nutshell:
Buy an investment property in an area with good rental demand and capital appreciation.
Let the tenants pay off the mortgage over the next 15 or more years.
Sell or refinance the property after it has been paid off.
Use the proceeds to pay for your child's school tuition.
While the process in the paper seems easy, there are some intricate details everyone seriously interested in property investment should be aware of. During the webinar, Managing Partner at Lifestyle Property International, Gordon Franks, and a father of two children, for whom he already secured properties to pay for their education, will tell you:
How to calculate future education expenses

How to choose a property that will rent out and appreciate in value
How to structure your mortgage so that it works in your favour
What are your financing and entry options?
How to choose the investment property exit strategy (sell/refinance)
Answer to any specific questions you might have during Q&A
While this webinar focuses on using property to fund education costs, the investment strategy presented here is not limited to just that. Property can be a great investment asset to fund any financial goal you might have: retirement, diversifying your portfolio, receiving an extra passive income, supporting your family or a charitable cause, the choice is yours.
Investment properties for sale in the UK
Completed & Tenanted
Exciting new residential development of one, two and three bedroom luxury apartments on 11 floors with stunning views of the waterfront and leisure pr
[more]
Exciting new residential development of one, two and three bedroom luxury apartments on 11 floors with stunning vie
[more]
Estimated Completion: Q3 2023
Our latest Birmingham Development is a collection of affordable one and two bed luxury apartments, close to local amenities within Birmingham city cen
[more]
Our latest Birmingham Development is a collection of affordable one and two bed luxury apartments, close to local a
[more]
Estimated Completion Q4 2023
This boutique development of contemporary apartments in this renowned cultural quarter of central Birmingham is home to the Birmingham Royal Ballet, T
[more]
This boutique development of contemporary apartments in this renowned cultural quarter of central Birmingham is hom
[more]