Is buying a property in London a good investment in 2021?
London property market in 2021
England's capital will always attract investors, international business people, companies, tourists, professionals, and London's stable position as the most prominent city in the UK is not going away. Just this year, London ranked as the most desirable city to live and work, amidst the city's being hit hard by a series of lockdowns. 
The shift in renting trend
With lockdowns imposed across the UK, people are looking to either purchase or rent a larger property to have more living space. This has drawn people to look for properties in London's outskirts, where rent is more affordable than in the city centre. We don't know yet whether this trend will continue or how long, but people are looking for more space for now. 
Stamp Duty Holiday
The current Stamp Duty Holiday extension, which can save you up to £15,000 in tax, is an attractive incentive to make a move and buy property in London this year. Compared to other parts of the UK, London has historically been the chosen destination for overseas investors who have benefitted from high capital appreciation levels. 
Buying a property in London for capital appreciation
Capital growth is the profit on a property purchase over the years as the property prices rise. This is a natural occurrence, and in places such as London, there is no doubt, property prices have increased over the previous years and will continue to appreciate over time. 
However, investing in London properties requires larger sums of money, to begin with. According to the Office for National Statistics (ONS), the average price of an apartment in London was £514,000 as of November 2021, up by 9.7% from the year before. Historically, London has seen a steady increase in capital appreciation, with slight dips in 2019 and 2020 caused by Brexit news and later by the beginning of the Covid-19 pandemic. 
London Property Prices from January 2016 to January 2021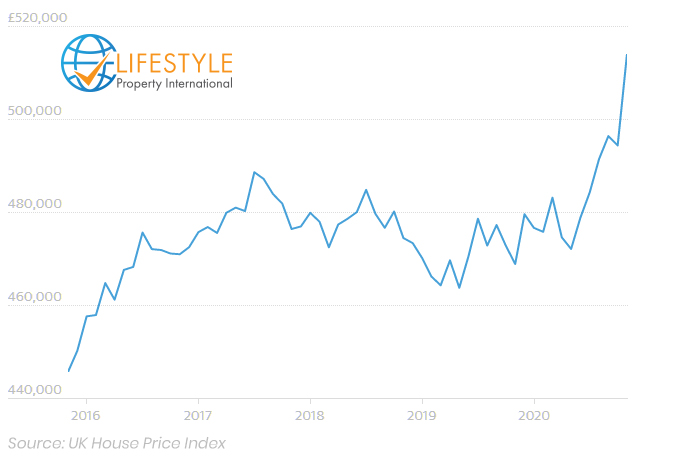 Property prices in London will rise, but the rental yield is low 
London's capital appreciation will get back on track, and those with a longer timeframe for their investment can consider London as their investment location. However, if your investment strategy is buy-to-let, and you are after an income from letting your flat, then there are other areas in the UK with higher rental yields, such as Birmingham or Manchester. 
ONS reports that average property prices in London grew 3.5% in 2020, slower than any other region but still above the average rate of the last few years. According to a recent Savills report, London's property prices are expected to rise by 12.6% in the next five years. The same report states that especially central London located properties are expected to rise 3% this year, 7% next year, and total 21.5% by 2025.
But the rental yield is relatively low 
"Rental yield is a return you can make on your investment property, and it's calculated by the monthly rental you receive from a tenant."
London is forecast to have the lowest rental yield growth over the next four years. Besides the slow rental yield growth, the London area's current and average rental yield is estimated at around 3%. In contrast, in Birmingham, investors can expect higher numbers of about 5 %-6%.
Is now a good time to buy a London property?
In our opinion, 2021 is a good time to buy property in the UK, including London. Whether your investment strategy is to generate income or to hold on to the asset and gain from its price increase in the future, the United Kingdom, and especially London properties, are something to be considered. There are a few more extra incentives available right now to property investors, such as: 
Discounts
While overall London property prices are high, and as we discussed earlier in this article, will remain high, there are discounts available that developers are offering to increase the number of new units sold. Ask us about them! 
People are renting
Covid-19 and lockdowns made many first-time buyers wary of spending large sums of money on property, and instead, they chose to rent, seeing it as a safer option. 
Stamp Duty Holiday & Low-interest rates
The UK Government has introduced a Stamp Duty Tax Holiday (now extended until the end of June 2021) to assist property sales. With mortgage interest rates being historically low, those who can afford the down payment will benefit from the above and may not see better incentives to buy than there are now. 
Property prices to appreciate in London
Perhaps the London property market's growth will take longer to take off again. Property prices are appreciating worldwide, and because London's is a worldwide financial, political, cultural and tourist centre, there is no doubt that capital appreciation will happen. In fact, Knight Frank has revised London's property price growth from 1% to 4% this year. 
Property investment is a personal choice. When it comes to buying a London property, investors must be aware that whilst it is possible to get satisfactory returns from renting, real investment returns are more likely to be from the property's capital appreciation. Contact Lifestyle Property International for a free consultation to learn more about London or the UK as your property investment destination.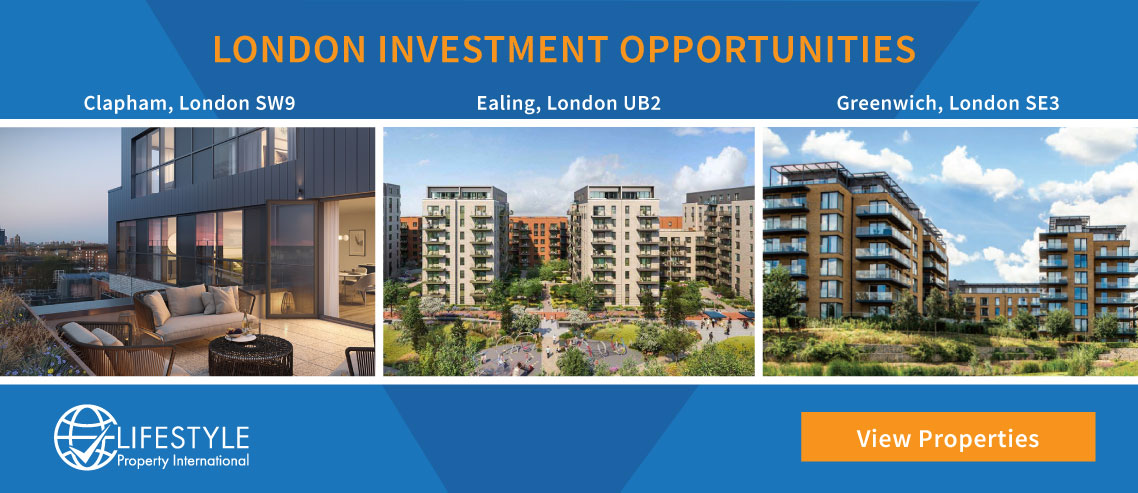 Author